Last week, the news broke that the annual US trade show World Pork Expo will be cancelled due do the emergence of African Swine Fever in Asia. A good moment to re-think the set-up of the expo anyway, writes Pig Progress editor Vincent ter Beek. Are live hogs and international agribusiness events a good combination anyway?
上月,有消息称,由于亚洲出现非洲猪瘟,美国一年一度的世界猪肉博览会将被取消。《Pig Progress》编辑Vincent ter Beek写道,这是一个重新思考世博会设置的好时机。活猪和国际农业综合活动是一个很好的组合吗?
In November 2006 I was still as green as grass, when I attended my very 1st edition of the world's largest animal husbandry show EuroTier in Hanover, Germany. I remember being overwhelmed with all the things being new, huge and impressive. And I remember finding it funny that there were not a lot of pigs at the show. Having come in from outside the agribusiness I just thought a proper agricultural show shouldn't only be talking about animals – but also show them.
2006年11月,当我第一次参加在德国汉诺威举办的世界上最大的畜牧展EuroTier时,我还很稚嫩。我记得所有的新事物,巨大的和令人印象深刻的东西带给我的震撼。我记得很有趣的是,在展览上没有很多猪。从农业综合企业以外的行业来到这里,我只是觉得一个合适的农业展会不应该只是谈论动物,还应该展示它们。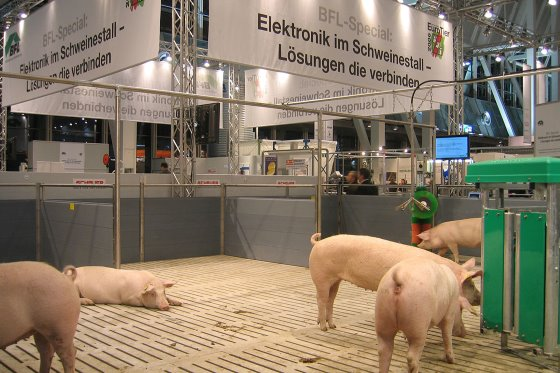 Gilts on show at EuroTier 2016. It would be the last time there were live pigs at the German event. Photo: Vincent ter Beek
2016EuroTier上展示的后备母猪。后来成了德国展最后一次展示活猪。照片:Vincent ter Beek
The ones that made it to the show, weren't difficult to find. I just had to follow my nose. Several gilts were shown in combination with a display on the use of Electronic Sow Feeding equipment on-farm. I was so pleased to see animals that they even made it to the front cover of Pig Progress early 2007 as you can see.
不难发现参展的人,我只需要跟着直觉走。展会展示了几头后备母猪在猪场使用电子母猪饲喂器的情况。我很高兴看到这些猪,甚至成为2007年早期《Pig Progress》的封面图。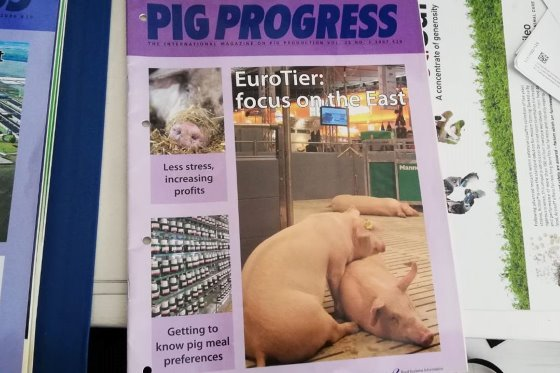 The cover of the 1st edition of Pig Progress in 2007. Photo: Saowanee ter Beek
2017年《Pig Progress》第一期封面。照片:Saowanee ter Beek
The last time there were live pigs at EuroTier
EuroTier最后一次展出活猪
If I remember correctly, it was the last time I ever saw live pigs at EuroTier, or any other international trade show for that matter. I never saw pigs at editions of VIV, not at the versions in Europe, China, Russia nor Asia. I didn't see them at SPACE in France, I haven't seen any at CAHE in China or at the PorkExpo in Brazil.
如果我没记错的话,这是我最后一次在EuroTier或其它国际展会上看到活猪展出。我从没在任何VIV的展会中看到过活猪,无论是欧洲、中国、俄罗斯或者亚洲。法国SPACE国际畜牧展、中国畜牧业博览会、巴西猪业博览会也都没有。
In fact, perhaps it's better that way. Pigs and international trade shows don't go well together. After all, who knows where all the professional travellers have been and what kind of viruses they may bring? Did they all properly shower and change clothes before entering the showgrounds? And what to do with the pigs that were brought to the showgrounds? Are they still to be used or will they sadly need to be sacrificed for reasons of biosecurity?
事实上,这样或许更好。生猪和国际贸易展并不太协调。毕竟,谁知道这些专业观众去过哪儿、可能携带哪种病毒?他们进去展览场地前是不是都洗好澡换好衣服了?而那些被带到展会的猪又该怎么处理?是继续投入生产,还是出于生物安全考虑要牺牲掉。
World Pork Expo in Iowa
爱荷华世界猪业博览会
The only exception to this all has always been the World Pork Expo in Des Moines, IA, United States. I have to admit – the animals are not being shown inside the agribusiness halls of the global trade show. They are usually to be admired at the World Pork Expo live hog show, in the adjacent 'Swine Barn'. It's a few 100 yards' walk from the main show building, but it forms a part of the entire event.
唯一的例外是美国爱荷华州举办的世界猪业博览会。我必须承认,这些猪并没有出现在全球贸易展的农业企业厅里。它们通常会在毗邻的"猪舍"举行的世界猪肉博览会现场展览上受到赞赏。从主展示厅步行几百码就到了,但它是整个活动的一部分。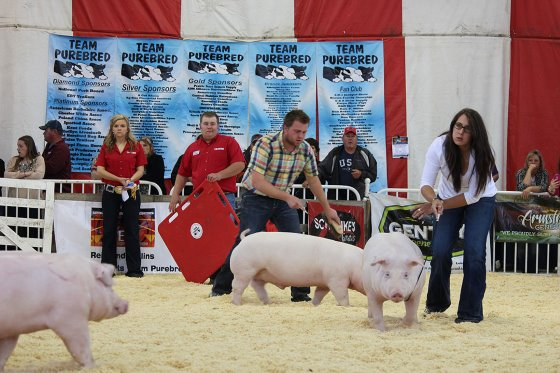 Participants are proudly showing their pigs at the World Pork Expo live hog show in 2015.
参展商在2015年世界猪业博览会生猪秀上自豪地展示自家的猪。
There, often younger pig owners proudly can show their animals and win prices in various categories. It's always great fun to escape the agribusiness bubble for a while to wade through the wood chips and see pigs being brushed and made ready for their appearance in the ring.
在那里,年轻的养猪户可以自豪地展示他们的猪,并在各种各样的商品中赢得好价格。暂时逃离商业世界,穿过木屑,看到猪被洗刷干净,准备好进场,也是一件非常有趣的事情。
No World Pork Expo in 2019
2019年世界猪业博览会取消
Last week, the US National Pork Producers Council (NPPC) announced that this year's edition of World Pork Expo (WPX) will be cancelled, in relation to the ongoing spread of African Swine Fever (ASF) in Asia.
上月,美国国家猪肉生产者委员会(NPCC)宣布,由于非洲猪瘟在亚洲持续蔓延, 2019年世界猪业博览会取消了。
In a press release, NPPC president David Herring said, "While an evaluation by veterinarians and other 3rd-party experts concluded negligible risk associated with holding the event, we have decided to exercise extreme caution. The health of the US swine herd is paramount; the livelihoods of our producers depend on it. Prevention is our only defence against ASF and NPPC will continue to do all it can to prevent its spread to the United States."
在一份新闻稿中,NPPC主席大卫·赫林说:"虽然兽医和其他第三方专家的评估得出的结论是,举办这次活动的风险可以忽略不计,但我们决定保持极度谨慎态度。美国养猪场的健康至关重要;生产者的生计依赖于它。预防是防御ASF的唯一办法,NPPC将继续尽其所能防止其蔓延到美国。"
Cancellation not a complete surprise
展会取消并不完全出乎意料
For some reason, the cancellation did not come as a complete surprise to me. Even though the virus is further away in the Mid-West than in Europe, the North American pig industry has been fanatically 'on top' of everything ASF from the moment the virus broke out in China. No stakeholder is wasting any opportunity to remind the agribusiness of the importance of good biosecurity to keep ASF at bay. Clearly lessons learnt in the crisis around PEDv as from 2013 haven't been forgotten.
出于某种原因,取消对我来说并不完全出乎意料。尽管该病毒在中西部的传播距离比在欧洲更远,但自该病毒在中国暴发的那一刻起,北美养猪业就狂热地"凌驾于"ASF之上。没有任何人愿意冒险来提醒行业生物安全的重要性,预防ASF。显然,从2013年的PEDv危机中吸取的教训我们一直牢记着。
There also were critical comments with regard to the decision, especially because the live pig show part will continue to be held. For instance, Dr Chris Rademacher, swine extension veterinarian at Iowa State University, responded: "This makes NO sense!!"
对于这一决定也有批评意见,特别是生猪秀将继续举行。例如,爱荷华州立大学(Iowa State University)的养猪推广兽医Chris Rademacher博士回答说:"这毫无意义!!"
This makes NO sense!! One of the main concerns were international visitors that may have contact with live swine with no biosecurity measures in place. This can still happen as they still may still visit and no way to deter them. The live pig show is the danger, not the expo. https://t.co/mDEj3MFIjS
— Chris Rademacher (@cjrdvm) April 10, 2019
这没有任何意义!主要的一个担忧是国际游客可能在没有采取生物安全措施的情况下与活猪接触。这仍然可能发生,因为他们仍然可以到访,没有办法阻止他们。活猪秀才是危险所在,而不是世博会。
— Chris Rademacher (@cjrdvm) 2019.4.10
Is coinciding with WPX a good idea?
与世博会同时开展是个好主意吗?
I tend to agree with him. I do completely acknowledge the importance of getting younger swine producers enthusiastic about the trade – and I understand that there are many more of these live hog shows around the country. The question is whether it is wise to continue to have them coincide with an event that is intended to attract an international audience – and is growing in importance every year?
我同意他的观点。我完全理解让年轻养猪户对这一行业充满热情的重要性,而且我知道全国还有很多这样的现场生猪秀。问题是,让这些活动与旨在吸引国际观众的活动同时举行是不是明智的做法,而且这个展会的重要性每年都在增加?
It is not to be expected that ASF is going to go away from Asia any time soon. In 2020 and the years to follow, most likely the virus will continue to be very present in the Asian continent. How much we will hear about it, depends on the transparency of the respective authorities in Asia. Will that mean that likely future editions of WPX will also be cancelled? A rhetoric question, as the show cannot be cancelled until eternity.
预计ASF不会很快从亚洲根除。在2020年和之后的几年里,这种病毒很可能会继续存在于亚洲大陆。我们可以听到多少消息,将取决于亚洲有关当局的透明度。这是否意味着世博展未来也将被取消?一个比喻而已,因为这个展会不可能永久取消。
To reduce the chances of potential transmission of whichever pathogen, it might be good to envisage future editions of World Pork Expo that acknowledge that live pig shows and gatherings of the international swine business are increasingly 2 separate worlds. Both disciplines require passion and pleasure, but bringing important swine people together from all over the world is a different ballgame than proudly showing hogs, hence requiring a different approach.
为了减少任何一种病原体的潜在传播机会,不妨设想一下,未来的世界猪肉博览会承认生猪展览和国际养猪业的聚会正日益成为两个不同的世界。这两者都需要激情和快乐,但与自豪地展示猪相比,把世界各地的重要养猪人士聚集在一起,是一场不同的活动,因此需要一种不同的方法。
Maybe a different time and place. How about that for 2020?
也许试下不同的举办时间和地点。2020年这么做,如何?
来源:Pig Progress
作者:Vincent ter Beek
(文/爱猪网记者刘坤颖编译,爱猪网原创,转载请注明出处)