Researchers in Brazil have also started to zoom in on the usage of insects as a suitable ingredient for animal diets. Scientists from Brazil's Federal University of Minas Gerais (UFMG) recently proved that they present advantages in comparison to grains.

巴西的研究人员也开始将昆虫作为动物饲料的合适成分。巴西米纳斯吉拉斯州联邦大学(UFMG)的科学家最近证明,与谷物相比,昆虫更具优势。
Their tests showed that crickets, black soldier flies and mealworms have similar protein digestibility levels to soy, and provide more lipids (between 10-35%), vitamins and minerals. Including insects is one of the strategies more widely investigated of late around the globe in an attempt to discover alternatives for the creation of sustainable animal feeding.
他们的测试显示,蟋蟀、黑蝇和粉虫的蛋白质消化率与大豆相似,并能提供更多的脂类(10-35%)、维生素和矿物质。利用昆虫是最近在全球范围内广泛研究的策略之一,目的是为创造可持续的动物饲料寻找替代品。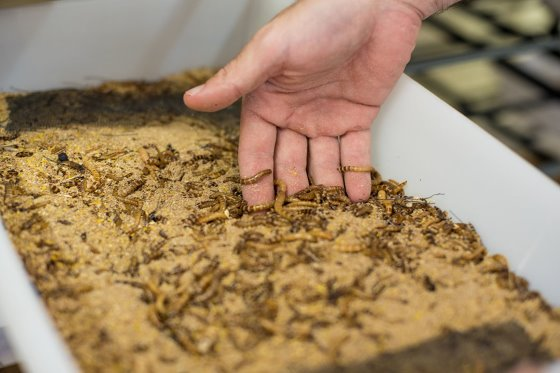 Mealworms at the UFMG laboratory. Photo: Amanda Lelis, UFMG
UFMG实验室的粉虫。照片:Amanda Lelis
Research focused on quails, fish and pets
研究集中在鹌鹑、鱼和宠物上
The PhD research by UFMG and the Brazilian Agricultural Research Corporation(Embrapa) has for now delved into the effect on quails, fish and pets. Results regarding the production species showed a better feed conversion and meat quality due to the insects' lipid levels.
UFMG和巴西农业研究公司(Embrapa)的博士研究目前已经深入研究了对鹌鹑、鱼类和宠物的影响。结果表明,该品种由于其脂质含量较高,饲料转化率较高,肉质较好。
With regard to pigs, Diego Vicente da Costa, zoo-technician and professor at UFMG said that monogastric animals are insectivores and insects can have particular performance effects. He said, "The technical efficiency is no longer questionable. We are not re-inventing the wheel. Insects will provide good results, but we need to evaluate specific indicators."
至于猪的情况,UFMG的动物技术人员和教授Diego Vicente da Costa说,单胃动物是食虫动物,昆虫有特殊的性能影响。他说:"技术效率不再是问题。我们不是在重新发明轮子。昆虫将提供良好的结果,但我们需要评估具体指标。"
Knowledge about insects fed to pigs
关于喂猪的昆虫的知识
The university would like to include pigs in the research as well – and could do with any kind of support to make this happen. Knowledge about insects to feed pigs is available, Prof Da Costa said. Quoting existing studies, he said that cricket meal is palatable for growing piglets and more complete than a fishmeal based diet. Nutrient intake and feed conversion were 18% better for piglets fed a cricket meal based diet.
这所大学想把猪也纳入研究范围,而且尽所能来实现这一目标。达·科斯塔教授说,现在有了用昆虫喂猪的知识。引用现有的研究,他说,蟋蟀粉对生长育肥猪来说是美味的食物,并且比鱼粉饲料更全面。喂食蟋蟀粉的仔猪的营养摄入量和饲料转化率提高了18%。
On top of that, a diet containing black soldier flies and larvae meal can replace soybeans and a supplementation of dried mealworm for up to 6% in weaner pig diets without any detrimental effect. Prof Da Costa said, "We will see pig production using lots of insects very soon. We, humans, as well. It's just matter of time."
最重要的是,在断奶仔猪的饮食中,含有黑蝇和幼虫的饲料可以替代大豆,添加多达6%的干粉虫,不会产生任何有害影响。达·科斯塔教授说:"我们很快就会看到很多昆虫饲养猪的实例。我们人类也是。这只是时间问题。"
Opportunities for insects in livestock feed in Brazil
巴西畜牧业使用昆虫饲料的可能性
He said the use of insects for feeding is technically viable but is for now not cost-effective in Brazil. Currently there is only small scale production which will not be able to meet the large demand from the poultry, pig and fish industries.
他说,用昆虫喂食在技术上是可行的,但目前在巴西还不划算。目前只有小规模生产,无法满足家禽、猪、鱼等行业的巨大需求。
In Brazil, legislation is unclear at the moment, although animals do eat insects by nature. The Brazilian Ministry of Agriculture, Livestock and Supply has recently been previewing some specifics for 'insect meal' for animals.
在巴西,立法目前还不清楚,尽管动物确实以昆虫为食。巴西农业畜牧和食品供应部最近在预审一些针对动物的"昆虫饲料"的细则。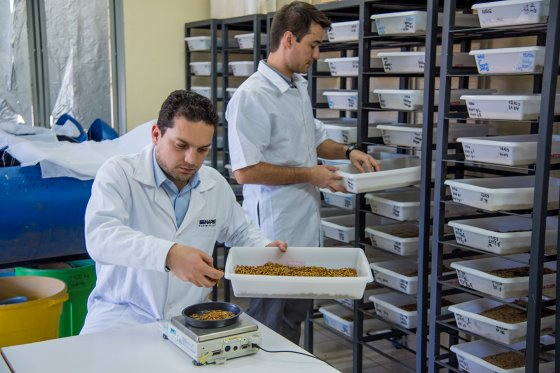 Research on mealworms in animal feed is in full swing in Brazil. Photo: Amanda Lelis, UFMG
在巴西,对粉虫用于动物饲料的研究正在如火如荼地进行。照片:Amanda Lelis
In a 2014 report, the UN identified over 1,600 edible insects as an alternative for human and animal consumption. Apart from them having an impressive capacity for reproduction, insects provide high levels of protein, healthy fats, vitamins, minerals, iron and calcium. Among the most appreciated species are moths, beetles, mosquitoes, grasshoppers, crickets and ants.
在2014年的一份报告中,联合国确定了1600多种可食用昆虫作为人类和动物食用的替代品。昆虫除了具有惊人的繁殖能力外,还能提供高水平的蛋白质、健康脂肪、维生素、矿物质、铁和钙。最受欢迎的物种包括飞蛾、甲虫、蚊子、蚱蜢、蟋蟀和蚂蚁。
来源:Pig Progress
作者:Daniel Azevedo
(文/爱猪网记者刘坤颖编译,爱猪网原创,转载请注明出处)