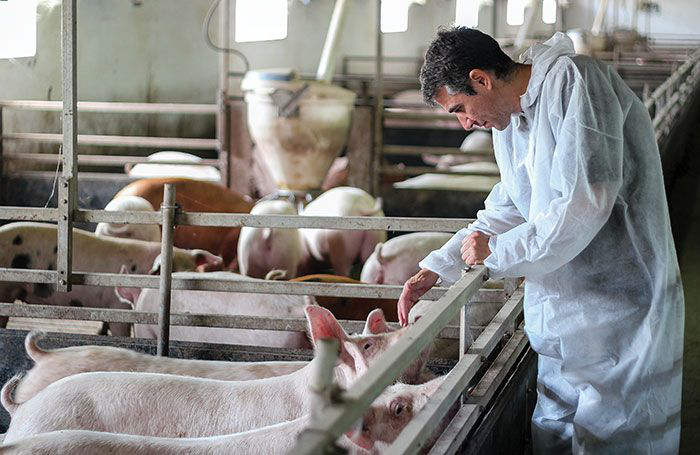 图:RGtimeline | Bigstock.com
Poor biosecurity practices, not disease virulence, are to blame for size of Chinese outbreak, scientists say.
科学家们表示,中国非瘟疫情的规模应归咎于糟糕的生物安全措施,而非疾病毒性。
Researchers long suspected that if African swine fever (ASF) reached China, the world would face an outbreak the likes of which it had never seen before.
长期以来,研究人员一直怀疑,如果非洲猪瘟(ASF)蔓延到中国,世界将面临前所未有的疫情。
Despite the headlines, ASF isn't a particularly contagious disease. Yes, it's capable of surviving outside a host much longer than most viruses — giving it an ability to remain virulent even after traveling long distances. But on the whole, it doesn't spread nearly as quickly as other animal diseases such as avian influenza, and small outbreaks have occurred in Africa and across Europe throughout history.
尽管经常上头条新闻,非洲猪瘟并不是一种特别具有传染性的疾病。是的,它在宿主外存活的时间比大多数病毒都要长,这使得它即使在长途旅行后也能保持毒性。但总的来说,它的传播速度远不及禽流感等其他动物疾病,历史上在非洲和整个欧洲也曾发生过小规模疫情。
Researchers suspect that human-caused risk factors such as high pig density and poor biosecurity practices ultimately laid the groundwork for today's large-scale outbreak of ASF.
研究人员怀疑,人类引起的危险因素,如高猪群密度和糟糕的生物安全措施,最终为今天非洲猪瘟的大规模爆发奠定了基础。
"We had actually predicted in 2017 that China's high pig density represented a high risk for a major ASF outbreak to occur," said Dirk Pfeiffer who, alongside his colleagues, outlined the risk for an outbreak of ASF in China and Vietnam in the journal Veterinary Record. "It was just a matter of time."
Dirk Pfeiffer和他的同事曾在《兽医记录》(Veterinary Record)杂志上概述了ASF在中国和越南爆发的风险,他提到"其实2017年我们就曾预测过,中国的高密度生猪养殖将是爆发非洲猪瘟的高风险因素","这只是时间问题" 。
Unlike influenza, ASF is not airborne and doesn't spread particularly easily — infected pigs don't become contagious for a week, sometimes longer, after they've begun to show symptoms. But A